---
Transitioning to eCTD v4.0
Almost 15 years after its last update, the Electronic Common Technical Document (eCTD)'s latest version has been finalized and is being rolled out internationally. eCTD v4.0 offers significant advancements in the way that sponsors and regulatory bodies handle submissions, and adapting to these improvements will be mandatory across all major regulatory authorities by 2028 (earlier, in many regions).
This blog post gives an overview of the changes that eCTD v4.0 is bringing to the submission process, the timelines for adopting it across regions, and ways that you can begin preparing for the change.
What is the history of the eCTD?
Back in the 1980s, the task of transferring regulatory information to a health authority necessarily involved palettes of boxed paper submissions. It was a large logistical undertaking that included dense printing and dedicated regulatory storage departments.
Then, in 1997, the International Council for Harmonisation of Technical Requirements for Pharmaceuticals for Human Use (ICH) formed the ICH M8 Expert Working Group/Implementation Working Group (EWG/IWG). This group created the Common Technical Document (CTD), thereby standardizing applications submitted to regulatory authorities. In 2003, the original eCTD was adopted by health authorities and sponsors both in the U.S. and around the world, and eCTD v3.2.2, the current default version internationally, was established in 2008.
However, the ICH M8 EWG/IWG was reestablished in November 2010 to oversee the next eCTD update and create a more robust, more flexible, and longer-term messaging system between sponsors and regulatory agencies. Starting in 2016, many versions were developed through internal collaboration and change requests until, in 2022, eCTD v4.0 was finalized.
What's new with eCTD v4.0?
eCTD v4.0 is intended to allow for easy, simple, and more efficient communication between sponsors and agencies. However, the twenty-year update comes with a heavy transition.
New submission structure
With eCTD v3.2.2, the structure of submissions is web-based and consists of multiple XML files.
However, eCTD v4.0 introduces a data-driven format, reducing structural updates and software release cycles.
Source: FDA Module 1 eCTD v4.0 Implementation Guide v1.5
The new submission structure will no longer show the hierarchy table of contents. Instead, a flat code list structure – relying on keywords, Context of Use terminology, and keyword/sender-defined listings – will be used to sort and display a submission unit.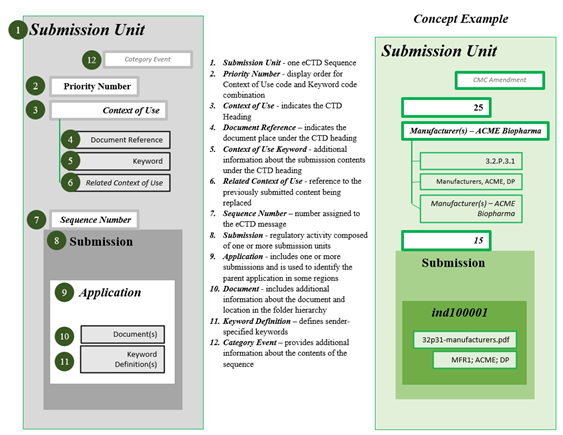 Source: ICH Electronic Common Technical Document (eCTD) v4.0 Implementation Guide v1.5
Data-driven submissions
The use of Controlled Vocabularies and sender-defined keywords allows sponsors to edit how they refer to and sort regulatory information. This makes eCTD v4.0 much more flexible and efficient for the sender and creates a simpler review for the health authority.
Sequence structure organization
Document Types will replace "file-tags" but will follow the same rules by organizing the data into additional headings. Sender-defined lists are often created and managed by the sponsor across all active submissions. They only need to be created once, but resubmissions are allowed if needed to correct typos or add terms. This creates a flexible keyword system and review for the sponsor-health authority relationship.
eCTD v4.0 is also intended to be much more flexible and harmonized across regions. Documents will no longer need to be replaced for each submission. Instead, Object Identifiers and Universally Unique Identifiers will assign each document a unique number, for ease of reference. New features such as content grouping and prioritization also establish a less rigid structure than eCTD v.3.2.2.
Future eCTD versions
Updates with additional features – such as two-way communication, grouped submissions, and forward compatibility – will soon become available.
Two-way communication will include regulatory authority information between the agency and sponsor.
Grouped submissions, whose handling may depend on region, will allow single submissions with multiple submission components.
Forward compatibility enables eCTD v3.2.2 submissions to transition to eCTD v4.0. Currently, eCTD v4.0 is for new applications, but forward compatibility will enable eCTD v3.2.2 life cycling and document reuse, allowing for seamless review.
What are the implementation timelines?
As of April 2023, the FDA is overseeing its eCTD v4.0 technical pilot, wherein sponsors are conducting sample and test submissions. The agency will begin accepting eCTD v4.0 applications from any sponsors who choose to use it in Q1 of 2024, and by 2028, it will be required in the US for all sponsors. Sponsors should prepare by reviewing implementation packages from the ICH and applicable regions.
Agency
Technical Pilot
Implementation Dates
Implementation Documents
ANVISA, Brazil
Q2 2023
Q3 2023 (Production Pilot)

2023 (Voluntary)

TBD
EC, Europe
2024 CAPs
2024 (CAPs Voluntary)

2025 (MRP/DCP Voluntary)

2026 (NAPs Voluntary)

2026 (CAPs Mandatory)

TBC
(Mandatory for MRP/DCP)

EC, Europe
FDA,
United States
2022 – Q1 2023
2023 (Voluntary)

2028 (Mandatory)

FDA,
United States
Health Canada, Canada
2023
2024 (Voluntary)

2027 (Mandatory)

Health Canada, Canada
MHLW/PMDA, Japan
Q2 2021
2022 (Voluntary)

2026 (Mandatory)

MHLW/PMDA, Japan
Swissmedic, Switzerland
2024
2024 (Voluntary)

2028 (Mandatory)

Swissmedic, Switzerland
TGA,
Australia
TBD
2023 (Voluntary)
2023 (Planned)
Source: ICH electronic Common Technical Document – eCTD v4.0
How can you prepare?
It is crucial that sponsors give themselves plenty of time to prepare for the upcoming implementation. Here are a few key first steps:
Align current submission processes with the eCTD v4.0 implementation packages
Review metadata
Agreeing on sender-defined keywords
In addition, transition teams need to ensure that their document management and publishing software can produce technically compliant documents and validated e-submissions before their region's mandatory date. We also strongly encourage sponsors to discuss the change and plan accordingly with their publishing vendors and IT groups.
---
Premier Consulting has been a trusted eCTD vendor for small to midsize pharmaceutical, biotech, and medical device companies since 1995. Contact us to learn more about our services and get in touch with our electronic publishing team.
Author:
Yasmin Rodino
Regulatory Operations Associate
Learn more about eCTD v4.0:
`